Living Landscapes
Ottawa's largest professional indoor landscape attraction will once again be in full bloom at this year's Ottawa Home and Garden Show. The 5th annual Living Landscapes by Landscapes Ontario will provide outdoor inspiration and motivation no matter how large or small the project. The stunning gardens will take an entire hall and include the Perth Brewery Beer Garden, Sleep Country Garden Stage, The Urban Botanist DIY Workshops, Vegepod Veggie Garden, and much more!
Partners:
---

Vegepod
Australian owned and operated Vegepod is making a return to the 2022 Ottawa Home and Garden Show. The global company pride themselves on proving simple and easy ways to grow vegetables at home. Their garden kits are the most efficient and practical on the market today. Make sure to check out their entertaining and educational booth for all ages, featuring a "Kindy" digging station, a "Sniff and Smell" area, interactive quiz activities and of course, a fully functioning Vegepod that demonstrates just how easy vegetable growing can be. If you're not growing chemical free, nutritional veggies for your family – you should be.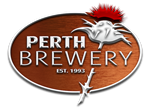 The Perth Brewery Beer Garden
The 2022 Ottawa Home and Garden Show is proud to announce the return of local microbrewery favourite, Perth Brewery! Together, alongside Landscape Ontario members, Living Landscapes will feature the Perth Brewery Beer Gardens, an area where attendees can sit, relax and enjoy the scenery amongst professionally landscaped gardens!
For your entertainment live music with Zachary Martin every afternoon. Guests will enjoy various food vendors and gourmet sampling throughout the Perth Brewery Beer Gardens.
Partners:
The Urban Botanist DIY Plant Workshop presented by Lee Valley Tools
The Urban Botanist began out of a sincere desire to engage with nature in an urban environment and the love to explore the natural world. There Terrarium workshops were created to share their strong passion to educate others about the world of botany in an urban setting. The Ottawa Home and Garden Show is excited to announce that The Urban Botanist, in partnership with Lee Valley Tools, will be offering DIY Plant Workshops.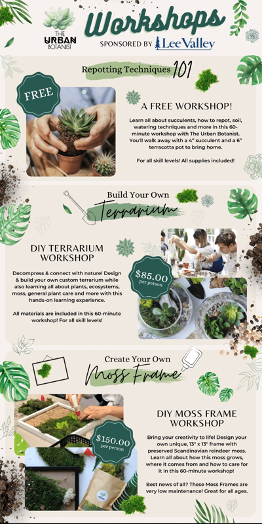 (click on image to enlarge)
The Rotating Local Market presented by The Urban Botanist
The 2022 Ottawa Home and Garden Show is very excited to feature The Rotating Local Market presented by The Urban Botanist. New to the Spring show, this pop-up mini market will feature some of Ottawa's most creative and upcoming small female owned businesses and artists, showcasing a variety of hand-crafted ceramics, locally designed stained glass botanical pieces, candles, pottery, holistic teas, crystals, and so much more. Come visit The Rotating Local Market and #supportlocal Ottawa businesses!
Check out the amazing line-up of vendors participating in this year's market:

The Sleep Country Garden Stage
Looking for tips and inspiration for your next home-related project? From landscaping advice to DIY insights, to learning about the newest trends in home décor, the Sleep Country Garden Stage will feature experts from around the industry sharing their knowledge and fresh ideas. Presentations will be taking place throughout the four days of the show.

Décor Partners:

Habitat for Humanity ReStore
Habitat Greater Ottawa is bringing its popular non-profit home improvement retail store to the Ottawa Home and Garden Show. Find new and gently used home furnishings and décor at a fraction of the original price. All items have been donated and 100% of profits go towards building simple, affordable houses for local, low-income families.

REMAX VIP PERKS avoid the crowds and see the show the way YOU want via the RE/MAX VIP entrance and beat the line at various show Features! Whether you're buying, selling or renting a home, the RE/MAX VIP experience at the Ottawa Home + Garden Show will help you source everything you need to improve your space and maximize your return on investment.
• Entry to the 2022 Ottawa Home & Garden Show
• Exclusive RE/MAX VIP Entrance
• Access to RE/MAX VIP Lounge
• Front -of-the-line access to Show Gardens
• Front-of-the-line access and preferential seating to all major show attractions