Sponsor Spotlight: RenovationFind
We're excited to have RenovationFind as a sponsor of the 2023 Ottawa Home + Garden Show. Before you visit this innovative company at EY Centre March 23-26, please enjoy our brief interview with the RenovationFind team below.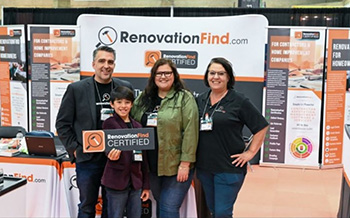 Q. How does your service work?
RenovationFind is an online directory of pre-screened and vetted home renovation companies, contractors, and trades. It is free to use and offers categories of companies across the renovation industry. Each business on our website has passed a stringent screening process that includes legal and financial background checks. In addition, we check for proper insurance, WCB coverage, and business licensing. Then, we monitor the companies to ensure compliance with our high standards.
We also offer a suite of digital marketing services to the RenovationFind Certified companies on our website. We can help them expand their online presence, increase web traffic, and build a brand of trust through content marketing, email campaigns, search engine targeting, social media posts, and more.

Q. What can we look forward to from you at the Ottawa Home and Garden Show?
We are so excited to be in Ottawa! We will have a booth at the show. Come sign up for a RenovationFind Membership, and we'll enter you to win $1,000! Your membership will give you discounted pricing and access to exclusive promotions from our partner companies in Ottawa.
Also, you can "Post a Project" at our booth this weekend. Fill out a simple online form, and we will send it to three relevant companies for quotes. For example, if you want a new air conditioner installed this spring, we'll send your project details to three of the best contractors for HVAC in Ottawa. Then, those companies will connect with you for more information so you can get that estimate!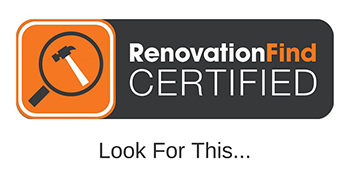 Q. What advice can you offer homeowners?
We understand that hiring a contractor for your home project can feel stressful. Finding a reputable company requires doing some homework that feels time-consuming, but it is so important! Ask if they have a business license, insurance, and WCB coverage for the people working on your project. These are vital to protecting you and your property if there is an accident, injury or damage during the project. When you hire a RenovationFind Certified contractor, those checks for those credentials and legal and credit background checks are complete.
Also, check references. It would be best to ask them for references from the last three customers they've served. That way, they can't cherry-pick their best jobs for references, and you'll get a better idea of their work.

Q. What inspires your services?
We've worked in the renovation industry for many years. Unfortunately, we've heard many stories about bad contractors taking advantage of homeowners. The situation is often stressful and can leave the homeowner with unfinished work, poorly done jobs, or a financial burden. RenovationFind exists now to help stop that from happening. We wanted to provide a free resource that connects homeowners with reliable, honest, and experienced contractors.
Not only does that help homeowners, but it can also help improve the industry's reputation. We need more stories of positive experiences working with exceptional companies out there!


Q. What is your favourite part of the Ottawa Home and Garden Show?
We love talking with homeowners and learning about their exciting ideas and projects for their homes! Then, we get to connect them with quality and trustworthy RenovationFind Certified companies for the work. Making those connections benefits everyone involved.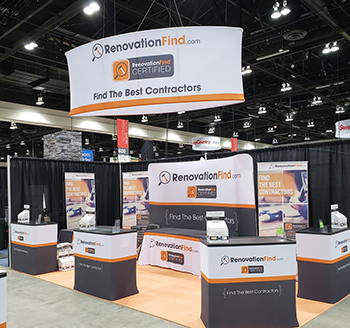 Q. Are there any success stories you'd like to share?
We rely heavily on data to operate our business and collect that data via surveys and other means. From that, we've received much feedback from homeowners about their experience using the website. We are pleased that so many report positive experiences working with the company they've hired off RenovationFind.com. Homeowners have found tile installers, drywall contractors, home builders, basement development companies, electricians, and the best kitchen renovation companies in Ottawa on the website. That is great!
The companies on our website have also shared positive feedback. Their profile on our website, combined with various digital marketing services, has helped increase web traffic and generate quality leads. In addition, that certification allows them to build a solid brand of trust among their target demographic. That is essential in this industry.

Q. What can people expect when they work with you?
You can expect to find honest and reliable home renovation companies and contractors on our website for your home project. You'll find listings in multiple categories, including exterior renovations, window coverings, painting contractors, home addition companies, plumbers, deck builders, the best bathroom renovation companies in Ottawa, and many others.
And if you become a RenovationFind Member, you'll get special discounted pricing from our select partner companies in your area! We'll also send you exclusive promotions. You can sign up at our booth at the show or at www.renovationfind.com.
If you're a home improvement company or contractor, you can expect to increase your online presence, web traffic, leads, and sales with our digital marketing strategies. We look forward to working with you and invite you to drop by our booth at the show for more information.
Mar 7, 2023, 18:17 PM