Sponsor Spotlight: RenovationFind
Mar 8, 2022, 14:23 PM
We're excited to have RenovationFind as a sponsor of the 2022 Ottawa Home + Garden Show. Before you visit this innovative company at EY Centre March 24-27, please enjoy our brief interview with the RenovationFind team below.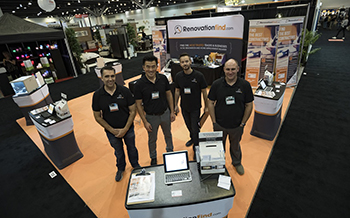 Q: How does your service work?
RenovationFind.com is a free online directory of home services, trades, and renovation contractors. Every business listed on the website has cleared a thorough screening process. We use a third-party organization to screen for legal and credit issues check for a valid business license, WCB coverage, and liability insurance. Then, that organization monitors the company and any customer reviews or complaints to make sure they're keeping up to RenovationFind Certified standards. If a company has a membership with the Better Business Bureau, they rank higher on RenovationFind.
Homeowners can go to RenovationFind to find quality and honest contractors for their home projects. Whether you need an interior designer, landscaper, HVAC company, painter, or one of the best roofers in Ottawa, you can find a trustworthy, certified company to help you out.
RenovationFind also works closely with each certified company to help promote them through various digital marketing services. We help them get in front of homeowners and ensure homeowners find contractors they can trust. It is a win-win situation for everyone.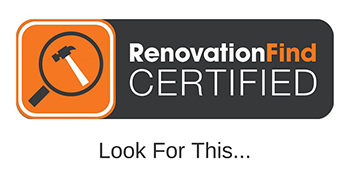 Q: What inspires your services?
I have worked in the renovation industry for a long time. Before RenovationFind, I would hear horror stories from homeowners through my granite company. They would tell me about bad contractors that did terrible work, left unfinished work, or took off with the deposit without doing anything at all. It's stressful to deal with these things, and the homeowner is left to pay for it.
So, we created RenovationFind to help prevent this from happening. We wanted to provide homeowners with a listing of honest and reputable home renovation contractors that have proven histories for good service and quality work. Having access to these certified contractors can reduce stress when renovating. Plus, it improves the reputation of the renovation industry at the same time.
Q: What can we look forward to from you at the Ottawa Home and Garden Show?
Our team will be talking to people at our booth set up at the show. You can come down and learn more about what we do. We will also show visitors our Post a Project service. They can fill in the details of their upcoming project or renovation and get estimates from three relevant RenovationFind Certified companies. For example, if they want to replace their windows this spring, we can send the quote to three of the best window replacement companies in Ottawa. The window companies will contact the homeowner to get more information, book a consultation, and provide a detailed quote for the job.
You can also enter to win $1,000! All you have to do is sign up for a RenovationFind Membership to enter the draw. You'll get exclusive promotions and discounts from our Ottawa partner companies with a membership.
Q: What advice do you have for homeowners?
If you plan to hire a contractor or company to work in your home, always do lots of research! I wouldn't rely solely on online reviews or the lowest quote. There are shady contractors out there who don't have liability insurance or a business license. You should ask to see those things along with WCB coverage and a list of references. When asking for references, ask if they can provide contact information for the last three customers they've serviced. Then, they can't just choose their best jobs, and you'll get a better idea about the work and service they provide.
Also, any estimate you receive should be detailed and in writing. Get a few estimates to compare and ensure the one you pick is competitive. If a company can't produce proof of licensing and insurance or a written estimate, that is a red flag!
Q: What is your favourite part of the Ottawa Home and Garden Show?
We love chatting with homeowners about their projects and then helping them find the right contractor for the job. Making those connections between people and our certified companies is very rewarding. We know that the homeowner will get quality work and have a positive experience, and the home show helps us make that happen.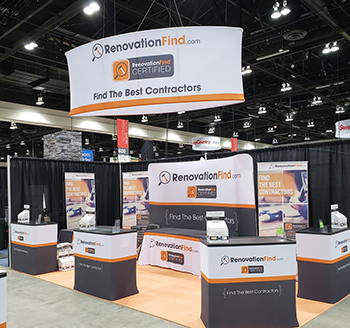 Q: Are there any success stories you'd like to share?
Because we rely heavily on data to create our directory of certified companies, getting honest feedback from users is a significant part of what we do. From the feedback we've collected from RenovationFind.com users, homeowners have reported positive experiences finding and working with the renovation companies on the website. They appreciate that we've done the heavy lifting with the background checks and monitoring, so they can feel less stressed hiring a company for their project.
For the certified companies on RenovationFind.com, we have data showing they've increased web traffic and have received qualified leads and jobs from the website users. RenovationFind provides digital marketing services to our companies that help them build an online presence, increase search engine optimization and traffic to their profile and website. These services help generate those leads.
Q: What can folks expect when they work with you?
Homeowners can expect to find quality and trustworthy contractors, trades, and home improvement companies on the website. The directory is free to use and offers certified companies in several categories. For example, you can find the best general contractors in Ottawa for your home renovation, as well as drywall contractors, plumbers, electricians, siding contractors, flooring installers and many others.
If you're a trades or home services company, your RenovationFind Certification allows you to build your brand as a trustworthy, honest, and quality business. We use blog posts, search engine targeting, email marketing, banner ads, and social media marketing to promote our companies. These services will increase web traffic, SEO, web presence and generate leads.