How to: DIY Planters
At this year's Home & Garden Show, we're excited to bring you our all-new Planted! Challenge. Ottawa's biggest influencers will be sourcing any item they want from the Habitat for Humanity ReStore to turn into a trendy planter. With a little help from Rust-Oleum products, participants will be turning a pre-loved item from drab to fab. All proceeds from the sale of the upcycled pieces are to be donated to Habitat for Humanity so get ready to support your community and bid on some amazing pieces. We've put together a list of our favourite DIY planters for succulents to get you in the spirit of the challenge!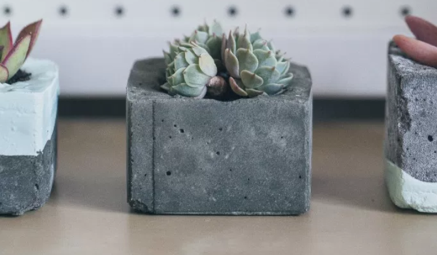 Bring the outdoors in with this super simple concrete succulent planter. Start by trimming down a milk carton (or any square box) to a height you want your planter to be. Fill the carton with quick-set concrete and while still wet, place a shot glass covered in cling wrap into the middle of the concrete. After about ten minutes, remove the glass and leave the cartons to dry for about two hours. Once dry, peel away the carton and fill the planter with soil and a succulent. To add your own spin to the planter, try painting the outside.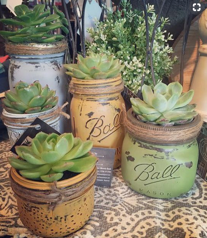 It wouldn't be a list of DIYs if we didn't include mason jars! These succulent planters are a super easy way to bring both spring colours and trendy succulents into your home at once. To start, paint a mason jar with your favourite spring colour, we suggest a light green or soft yellow. Once the jars are dry, rough up the edges with some sandpaper to leave your planters looking perfectly rustic. Finally, fill the jars with soil and a selection of your favourite succulents and voila!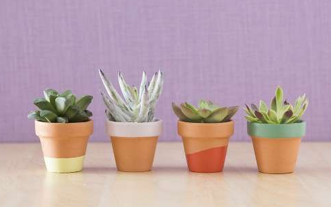 Looking for a kid friendly DIY? Look no further than these terracotta pots. All you need is some small terracotta pots, a couple colours of acrylic paint and some creative kiddos! Simply paint the pots and allow them to dry before placing soil and succulents into the pint sized masterpieces.
The Ottawa Home & Garden Show will be taking over the EY Centre March 22-25, 2018. Don't miss your chance to connect with hundred of exhibitors, find home improvement inspiration, and more. What are you waiting for?
Get your tickets now
!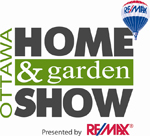 MARCH 22-25, 2018
EY CENTRE
Mar 21, 2018, 18:11 PM