5 Tips to Add More "Green" to Your Garden
Eco-chic isn't just for clothing and beauty products, you can also incorporate sustainability into your garden without compromising its look. Consider these tips that will keep your garden looking good and the earth feeling good too!
Put down the watering can
. Plant some tried and true perennials that know their way around the heat but still add beautiful sprigs of colour to your garden. Aptly labeled as 'drought tolerant perennials,' yarrow, red valerian and purple coneflowers are just a few of the many vibrant flowers that can handle the sun without constant watering.
Sprinkle some mulch
. Not only does mulch's earthy tones contrast nicely with bright petals, mulch retains water and keeps soil healthy. Shredded bark is a great organic option.
Try your hand at companion planting
. Companion planting is a natural way to prevent pests; simply plant a couple plants close to each other. Marigolds offer a beautiful sunshine yellow and are known to fight off pesky garden bugs.
Plant trees
. Freshen up your garden with dynamic focal points by adding trees that reach different eye levels. Plant trees strategically so they provide natural shade to shorter flowers and shrubs.
Upcycle some chic accessories
. No garden is complete without a few personal touches. Keep yours environmentally friendly and stylish with some DIY accessories. Try old crates as planters throughout your garden. This can be quick and easy; simply choose and place the planters, or you can up the design by repainting and repurposing the crates for a unique finish or pop of colour!
Get more tips for your spring garden at the Ottawa Home & Garden Show, taking place at the EY Centre, March 25-28, 2016. Also, don't miss the debut of the Living Landscapes garden series at the show – an enchanting garden taking up a 30,000 sq. ft. hall, featuring 11 creative gardens each with its own theme, inspiration and design. Don't have tickets yet?
Get 2-for-1 on Facebook
and treat a friend or family member to the show. We can't wait to see you there!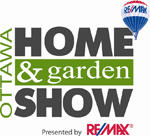 EY CENTRE
MARCH 25-28, 2016.
Mar 21, 2016, 12:55 PM